welcome to Acv Studio the online gallery for Anthe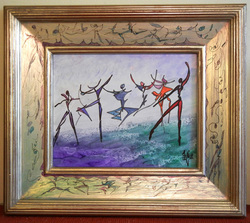 Anthe Capitan-Valais
, commonly known as
" Anthe"
is a Pennsylvania Academy of the Fine Arts graduate. She has a degree in printmaking and painting although Anthe excels in most any medium that she decides to use to create her works. She has won awards for her oils, acrylics, watercolors, sculptures and collages along with mixed media pieces.
Asking Anthe about her art this is what she has to say,
"I have always been an artist of some sort. When I was a child I would take the cardboard pieces out of my dad's laundered shirts to paint and draw upon. I couldn't wait for the next delivery of clean shirts as it would be loaded with many a blank canvas for me to make my creations. I use to get paint by number kits and I was never one to stay in the lines so with those paints, my imagination and my Dad's shirts I would paint.The arts are my passion... Creating work is much like breathing, I simply do it because I must to stay alive. The creation of my art is a means for me to express my faith in God, glorifying him, and giving Him honor. I have always had a love of the Mexican & Greek Iconography. My travels to both countries have enabled me to incorporate their color sense into my imagery. I have felt the desire to convey multiple meanings in much of my work and to provoke thought. Nothing in life is exactly what it appears to be and art in my estimation should reflect the same as life, the unexpected.Years ago I was a dancer which was fun and exciting way of expressing myself. However, I was hit by a drunk driver and that put an end to my dancing career but not to the passion of what I felt when dancing which remained within. Now through my love of art, I am able to once again express the movements I remember so vividly in my paintings and mixed media pieces. I am creating works which are inspired by drawings that I have done by monitoring classes or attending performances. I hope you enjoy this new direction in my art as much as I do making these creations. "
Thanks for visiting this site and viewing the artwork. We would like to hear from you and if you would like to hear from Anthe
occasionally please sign up for our newsletter or send us an e-mail.
Visit my Zazzle store for fun artsy gift ideas for any occasion on a multitude of fun and decorative items.
---