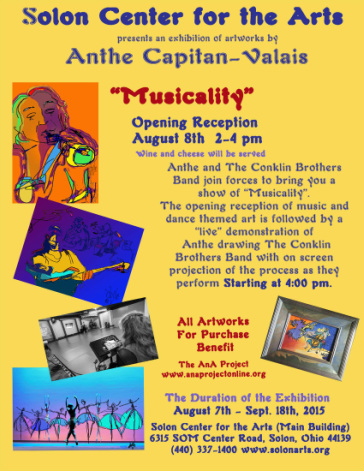 A SOLO Exhibition of
Artworks by Anthe


"MUSICIALITY"
All Artworks for purchase
Benefit the AnA Project.
Solon Center for the Arts 6315
Som Center Road Solon, Ohio 44139
Saturday AUGUST 8th 2015
opening Reception from 2-4 with
Live Drawing from Music Demonstration at 4 - 5pm
For more information and directions click here.
---
I am delighted to invite you and your friends to
" With A Song in My Heart"
Solo Art Exhibition by Anthe
OCTOBER 11th, 2014
at
The Gallery at Community Music School
www.cmsmusic.org
775 W Main St. Trappe , PA 19426
The evening will include Art by Anthe and Music by Minas
an opening
RECEPTION at 7: PM
followed with a
CONCERT at 8:00 pm
by
Minas, a Brazilian piano, vocal and guitar ensemble
Duration of ShowOCTOBER 11th - NOVEMBER 1st 2014
Gallery Hours:
Monday – 1pm-9pmTuesday – 1pm-9pmWednesday – 9am-9pmThursday – 1pm-9pmFriday – 1pm-7pmSaturday – 9am-2pmSunday – CLOSED
775 W Main St Collegeville, PA 19426
http://www.cmsmusic.org/about-us/hours-location/
Chestnut Hill Gallery hosts
A Night At the Ballet Silent Auction and Exhibition
to benefit the AnA Project.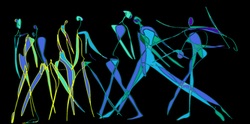 Saturday November 2 starting at 6 pm
Chestnut Hill Gallery
8117 Germantown Avenue Chestnut Hill, Phila., PA 19118
has graciously lent us the use of their wonderful gallery for our first
Annual Silent Auction, and Fundraiser.
All proceeds from this gathering will go directly to fund the AnA Project.
Artworks will include:
Paintings, mixed media, and prints by
Anthe
Auction Donors:
The Gallery's
"A Night at the Ballet"
Benefit Show, is an evening filled with Art, Wine, Beer, Light Fair and live music for your listening pleasure. Cheri France of the Pennsylvania Flute Choir has graciously donated her services and will be playing for the evening. Twenty percent of all art sales through the gallery, during the event will go to benefit the AnA Project.
Our Donors for our Benefit -Silent Auction and Exhibition on November 2nd at Chestnut Hill Gallery.
Hilarie Hawley, eLisabetta DiMaura, Jess Gamble and local merchants; Bredenbeck's Bakery, Tickets to Dance Celebration at the Annenberg Center , Campbell's, Chestnut Hill Gallery,CinCin Restaurant, Scarlet Begonias, Kathleen Sheeder Bonanno ofMusehouse Poetry, Intimacy Lingerie- King of Prussia, Calvin Klein for Men, Pulse Dance Studio, Hair Styling by Salon Salon, Make-up by Kristen Griet, Stage Step Flooring, Zake's Cakes, Botanical Expressions, and others have generously donated to the silent auction.
---